What Did Acura Bring to the 2018 Chicago Auto Show?

The 2018 Chicago Auto Show was full of big reveals, some test drives and rides, and of course cars from brands from Lexus, Mercedes-Benz, BMW, and plenty others. We, of course, had our eye on all things Acura, and it didn't disappoint. Acura gave thousands of spectators, journalists, and car geeks a closer look at 2018 models like the: ILX, MDX, NSX, RDX, RLX, and TLX. We also learned that the Type-S sports package will make a return in the next few years along with a performance-minded turbocharged 6-cylinder engine.
The most exciting debut was the 2019 Acura RDX prototype! It is not only sharp looking, plenty capable, and luxurious, but it will also be the very first Acura to be both designed and built in the U.S.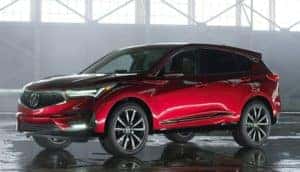 A Taste of the 2019 RDX: Basic Info You Ought to Know
The 2019 RDX Prototype revolves around the Acura Precision Concept. The concept inspires the RDX model's bold new look, a low, wide presence, inside and out. The interior dons a spacious cabin, newly designed sport seats, 16-channel ELS Studio® 3D audio, and a new ultra-wide panoramic power-adjustable moonroof and floating center console. This new RDX focuses on the driver with some of the industry's most intuitive audio and information control system, too. Read our helpful 2019 Acura RDX post for more information.
Take a Gander at 2018 RDX Models in the Meantime
We know we got you pretty excited for the future of Acura and the 2019 RDX, so get your fix with our 2018 Acura RDX models for now!
More from Mile High Acura
Whether you want to take the style of your 2020 RDX to the next level or you want to keep it in like-new condition, you have a wide range of RDX accessories to choose from. From floor mats to sunshades, you will find what you need from Acura. Browse our selection of RDX accessories or…

Contact Us Acura SH-AWD stands for Super Handling All-Wheel Drive™. It's a system designed to combine the peace of mind that comes with All-Wheel Drive (AWD) with high-performance dry-road handling, and it's what gives models like the Acura TLX and Acura MDX such an immense edge over the competition. What is SH-AWD? Acura all-wheel drive…

Want a luxury crossover SUV with enough interior room for every passenger as well as enough space to bring anything you need along the way? It's time to check out the luxurious and spacious interior of the 2019 Acura RDX. View RDX Inventory Explore the RDX 2019 RDX Cargo Space Specs Many drivers around Highlands Ranch…