3 Denver Farms Where You Can Cut Your Own Christmas Tree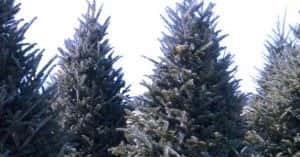 Different families have different Christmas tree traditions. For some, an artificial tree they can store in the garage or the attic is good enough and something they can pull out and put up without much hassle. Other families prefer to head over to the Christmas tree lots and pick out a pine, spruce, or fir they can fit in their home and in their budget.
However, many families still prefer to get their Christmas trees the old-fashioned way: by hunting down a nice evergreen and chopping it down themselves. If this sounds familiar, or if you'd like to try cutting down a fresh conifer and taking it back home, you can find several farms in the Denver area that let people find their perfect tree.
Creekside Tree Nursery
Just east of the Boulder airport is the Creekside Tree Nursery, which specializes in selling full-size trees to businesses and individuals throughout the Denver area. They also have plenty of conifers in stock you can use to decorate your home. When you visit the Boulder location, you can find fresh-cut trees ready to go along with several living Christmas trees you can return to the wild after the festivities end. However, if you head northeast, you can cut down your own tree, and you can see Santa from noon to 2 p.m. on Saturdays or 2 to 4 p.m. on Sundays.
Arapaho and Roosevelt National Forests
For that authentic tree-cutting experience, there's nothing like hiking in the mountains of Colorado with a saw, some rope, and a sled. If you buy a permit, you can head up to Red Feather Lakes in the Roosevelt National Forest and pick out your very own Christmas tree during the first full week of December. Keep in mind that you'll be driving into a wild mountain forest in December, so be prepared for the terrain and weather conditions before you go. Also, while Santa might not show up, you might spot Smokey the Bear on the weekends.
Holly Acres Nursery
Just southeast of the Denver metro area and east of Elizabeth you can find the Holly Acres Nursery and Garden Center. Holly Acres goes all out during the holiday season, participating in the Elizabeth Christmas Festival in late November and hosting several events throughout December. The Holly Acres Nursery is a particularly good place to visit if you're looking for a fir, and it also serves as a location where you can donate food and warm clothing you can spare. Holly Acres stays open from 9 a.m. to 5 p.m. every day, so plan your trip accordingly.
As you might have expected from the Mile High City, the Denver area offers plenty of nearby farms and forests where you can pick out and cut down your very own Christmas tree. Few other cities in America offer as many options as you can find within an hour of downtown Denver, and even fewer of them include a national forest as a possibility.