3 Reasons Why Acura Is Making Inroads Into the Midsize Luxury Crossover SUV Market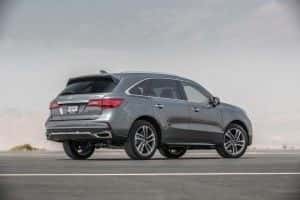 Like most successful car manufacturers, Acura knows it has to continually offer attractive products to remain competitive in a perpetually challenging marketplace. Here's how the brand is using that ability to make waves in the crowded midsize luxury crossover segment.
Attractive Packages for the 2017 RDX
Many car buyers love the available options they can get on their vehicles because they help them personalize their rides. The chosen features might range from an upscale stereo system to a suite of autonomous safety features. Knowing that many luxury vehicle shoppers feel enticed by package upgrades, Acura opted to offer the Advance Package on the 2017 RDX.
What exactly does it entail? For starters, it equips the car with rain-sensing windshield wipers, parking sensors on the front and back front fog lights, ventilated front seats, and an auto-dimming mirror on the driver's side. Plus, the vehicle works with the Acura Navigation System, which includes voice-recognition technology.
Also, even people who don't opt for the Advance Package can still get the RDX with driver-assistive technologies like adaptive cruise control and lane departure warning. If the Advance Package isn't quite what you're looking for, the Technology Package might be ideal. It offers perks such as a high-definition radio and eight-way adjustable driver's seat. By making these packages available, Acura signals that it has plenty of features that car buyers will love when they're in the mood to splurge.
MDX for Luxurious Family Trips
There's a good chance that when you think of a luxury car, the first ones that come to mind aren't exactly spacious. Some manufacturers focus on flashy features but don't offer adequate space for passengers and essential items, meaning that many people who need family cars feel that luxury vehicles simply aren't practical for their needs.
The MDX has gained positive feedback from reviewers and consumers alike, thanks in part to the fact that it offers three rows of seats. The first two are large enough to fit adults comfortably, while the third row is ideal for kids. Another reason why Acura is clearly serious about making an impact on the luxury SUV market is because it's providing options that families can enjoy.
The RDX Represents Affordable Luxury
You've already learned some interesting things about the RDX in the previous section, but another aspect that's helping Acura make strides in the midsize luxury crossover and SUV market is its affordability. A press release about the model mentioned that the vehicle's price is unchanged from 2016. Since 2016 was a strong sales year for the RDX, its manufacturers seem to have decided that rather than ramp up the price, it would be best to keep it the same and demonstrate how luxury is more affordable than some people may think.
Even though the price remains the same as last year's model, the 2017 version has a more powerful engine, plus the manufacturer's signature LED headlamps. New colors are available to consider in 2017 too.
By now it should be obvious why Acura is making great progress in the luxury market. To test drive one of the vehicles you've just read about, contact your dealership.