4 Reasons the TLX is Best Buy Award Winner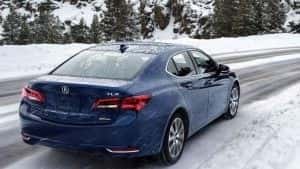 Consumer Guide Automotive magazine selects dozens of Best Buy Award winners among automobiles annually. It is the highest rating that the 50-year-old publication gives to cars. To do so, the editors test drive over 150 new cars in each class. This includes subcompact models to pickup trucks to electric vehicles. In the premium midsize class, the 2017 Acura TLX is one of the current Best Buy Award winners. Read up on a few reasons why.
Overall Attributes
The chosen cars are award-worthy for more than just their likeability. However, that quality helps. The Acura TLX is a four-door, midsize sedan that takes the place of the Acura TSX and TL. It is one of the smaller vehices in its class. With a sleek interior, top-notch safety controls, and a high performance drive, the TLX is a phenomenal automobile. Every single one is equipped with heated front seats, two center console screens, and keyless entry and ignition.
Fuel Economy
The Acura TLX comes with a four-cylinder or V6 engine that takes premium grade gasoline. The four-cylinder has an eight-speed, two-clutch, automated-manual transmission. It includes four-wheel steering and is only available in the front-wheel drive model. The V6 has a nine-speed, automatic transmission and is available in both the front-wheel and all-wheel drive. The Enviromental Protection Agency estimates that the fuel economy for the four-cylinder TLX is 24 miles per gallon for city driving and 35 miles per gallon on the highway. 21/34 is the estimation for the front-drive V6 and 21/31 for the all-wheel drive V6. Consumer Guide's testing of the TLX shows an average of 27.6 miles per gallon for the four-wheel drive V6 with 85 percent highway time.
Safety
The plentiful safety features of this Acura add to its Best Buy Award declaration. For successful lane changing, there are warnings for forward collision, lane and road departure, and rear cross traffic. To assist drivers with exiting long driveways and parking spaces, this automobile has a rearview camera and blind spot monitor. The anti-lock braking system, integrated turn signal mirrors, and traction controls are important features for preventing a collision. However, in the unfortunate case of a crash, the TLX has a rollover protection system.
Value
In addition to its good fuel economy and safety equipment, Consumer Guide Automotive considers the 2017 Acura TLX a reasonable dollar value. It provides class, sport, affordability, and comfort all in one. This tech savvy, midsize vehicle is perfect for daily commutes and extended road trips. With lots of cargo space that includes an emergency trunk release, this automobile is competitively priced for its class.
The editors of Consumer Guide Automotive pride themselves on skillfully evaluating cars that consumers are likely to purchase. Collectively, they drive over 100,000 miles yearly to critique factors that will be a part of a driver's daily life. The team tests vehicles via various terrains and time frames. It is one of the reasons that shoppers refer to this reputable magazine prior to walking on a car lot. The 2017 Acura TLX meets the Best Buy Award requirements for price, fuel economy, performance, reliability, resale value, and more.