4 Winter Getaways from Denver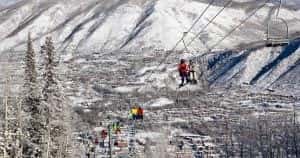 Colorado is a beautiful place year-round, but the wintertime is when it really shines. With breathtaking natural surroundings, ski areas for people of all ski levels, and five-star lodges throughout the state, there is truly something for everyone. Check out these fun spots to visit for your next winter getaway.
Aspen
Aspen is like the Park City of Colorado, a place where celebrities come every winter to take advantage of its proximity to four different ski areas, as well as spots to dine and shop. Some of the richest people in the world own real estate in Aspen, but you'll also find a handful of hotels where just about anyone can afford to stay. It gets busier during the winter months, but you'll still enjoy beautiful views of the Maroon Bells mountains. It's located about 200 miles from Denver.
Boulder
Another perfect getaway this winter is a trip to Boulder. It's only about 45 minutes away, so you can spend the day in the area and head home that evening, or make a long weekend out of it at a hotel. The St. Julien Hotel is a favorite that's located in the downtown area of Boulder. It's a great place if you're looking for some pampering, with a 10,000-square-foot spa that includes an infinity pool, outdoor terrace, and whirlpool, along with 12 treatment rooms where you can get massages, facials, manicures, pedicures, and body treatments.
Durango
If you're up for an adventure during your winter getaway, pay a visit to Durango. It's a bit farther away, located about 350 miles northeast of Denver, but it's worth the trip for outdoor enthusiasts. Here you can participate in ice climbing and skiing in the Rocky Mountains, and there are lower areas of the city that offer access to hiking and mountain biking trails year-round. If you do opt for one of these activities, be sure to dress in the appropriate gear to stay warm.
The Durango & Silverton Narrow Gauge Railroad is still in operation, offering a trip through a narrow route between Durango and Silverton. If you take the steam train, bring your camera because you'll definitely want to snap some pictures of the scenery. Pay a visit to Main Street to enjoy a combination of Wild West flair meshed with modern comforts.
Salida
Some Denver natives seek a break from the snow during their winter getaways, and Salida is a nice alternative to the ski towns. It's about 150 miles away and has warmer temperatures than many other parts of the state. In fact, it's often referred to as the "banana belt" of Colorado. The Palace Hotel is a great place to stay if you're traveling with your family since the rooms include kitchens and are a bit more spacious. You can also take a soak in the hot springs, shop for fresh goat cheese at Jumpin' Good Goat Dairy, or grab a freshly brewed pint at Amicas.
Instead of becoming a homebody during the upcoming Denver winter, pack a bag and head out for a fun excursion in one of these nearby towns.