5 Features of the 2018 Acura TLX That Redefine Performance Luxury Sedans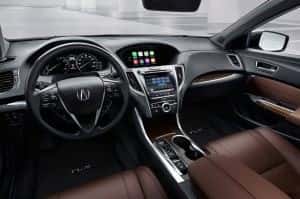 The new 2018 Acura TLX will change the way you think about performance luxury sedans. Whether it's comfort, technology, or design you're looking for, the new TLX stacks up against Infiniti's offerings, or the BMW 3 Series.
AcuraWatch
The new 2018 Acura TLX comes standard with AcuraWatch. AcuraWatch is a suite of safety features that will improve your enjoyment and give you added safety whenever you get behind the wheel. It includes a collision mitigating braking system that will assist you in emergencies by applying the brakes to prevent an accident.
It also comes with adaptive cruise control, lane keeping assistance, and a multi-informational display in full color.
A-Spec
The 2018 TLX V6 A-Spec gives the TLX an even sportier design, both inside and out. The A-Spec offers a matte-black diamond grille at the front with dark chrome surroundings. The front fascia is lower and broader with center air openings and round LED fog lights. You'll also get 19-inch alloy wheels in Shark Gray, 245-series tires, a gloss-black spoiler, matte-black side windows, and 4-inch round dual exhaust finishers.
The interior also has a sportier finish with the A-Spec. There are bolstered front seats with high contrast stitching and piping, red LED ambient lighting, red driver's meter highlights, brushed aluminum paneling, and a thick-rimmed steering wheel.
TLX V6 Advanced Package
The all-new TLX V6 Advanced Package is all about comfort and style. It will now feature trapezoidal LED fog lights, a surround view camera system, so you can see a bird's eye view of the car, white LED ambient interior light piping in 10 different locations, and built-in wireless charging pad for all your electronic charging needs.
It will also help you when you're battling winter. A heating element will de-ice your windows, the front and rear seats are all heated, and the heated steering wheel will keep your hands toasty warm. It also comes with a remote start button, front and rear flush parking sensors, and auto-dimming side mirrors.
Acura Precision All-Wheel Steer System (P-AWS)
The Acura Precision All-Wheel Steer System is the first system that independently adjusts the toe angle of the rear wheels. This small adjustment allows for fully independent rear steering. When you steer the front wheels, the rear wheels can pivot as much as 1.8 degrees in the same direction.
This adjustment allows for a smoother, more stable ride and quicker lane changes. You can also opt to use the P-AWS in the reverse phase. This turns the rear wheels slightly in the opposite direction to help rotate the vehicle better when you turn.
The system also works when you apply the brakes. When you hit the brakes at high speeds, the rear wheels turn at an angle inward to give you more stability and braking ability and to help avoid a collision. If you use it at lower speeds, it can help you maneuver the vehicle into tight parking spaces and reduce your turning circle.
There are so many great features of the new 2018 Acura TLX that will make you want to get behind the wheel and enjoy the new world of luxury sedans.