5 Sports Bars Where You Can Cheer On Your Team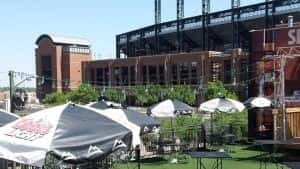 Denver, Colorado, is a sports lovers dream city. It's home to five major professional sports franchises covering baseball, hockey, basketball, football, and soccer. No matter your preferred game, Denver offers plenty of great bars to cheer on the home team or your team.
1. The Three Lions
The English invented the sport of soccer, and, even though they call it football, you should follow their lead when watching it. The Three Lions is modeled after traditional London pubs but features modern American sports bar specials. Most of the world's best soccer leagues kick off early in the United States, so happy hour starts as soon they open. This place opens its doors as early as 7 a.m. and offers morning, evening, and late-night food and drink specials every day. From the World Cup to Major League Soccer, The Three Lions has your inner hooligan covered.
2. Govnr's Park Tavern
The Broncos are Denver's most successful sports team and one of the most successful NFL teams in general. Govnr's Park Tavern celebrates the Broncos' legacy by offering up Bronco-themed food and drink specials throughout the year. Also, Govnr's Park Tavern hosts contests with prizes during the football season. If you can't get tickets to the game, watch it here for a chance to go home with some free Bronco merchandise. Don't worry, you still get to be a part of the fun even if you root against the home team.
3. Wash Park Sports Alley
Athletes may have to take a break from playing, but you don't have to. Spend your time during intermissions and halftimes in Wash Park Sport Alley's expansive game room. This bar features classic and modern arcade games, pinball machines, and even party games like beer pong. Wash Park Sports Alley also boasts 28 HD TVs, as well as an all-you-can-eat wings special on Thursdays. From tip-off to the final buzzer, you will always have something to keep you occupied.
4. Jackson's Denver
Summer is beautiful in Denver. and even though it's baseball season, you'll want to get outside to enjoy the weather. Jackson's has a huge rooftop bar designed to feel like the world's largest backyard party. It's located directly across from Coors Field, home of the Colorado Rockies, so you can cheer alongside fans who are at the game. Along with its stunning view of the ballpark and Denver, Jackson's rooftop also turns into a giant dance floor featuring Denver's best DJs. The space is even available to book for private parties.
5. Whiskey Tango Foxtrot
If you're looking for a classier sports bar experience, Whiskey Tango Foxtrot is the place to be. It has a large selection of beers, a rooftop patio, and plenty of TVs, but what really sets it apart are its cocktails and food. Whiskey Tango Foxtrot has 90 types of whiskey and a menu that is more similar to that of a fancy restaurant than a sports bar.
Denver has the teams, and the bars to watch them, to make any sports fan happy. With so many great places to watch the game, you may find yourself rooting for the home team even if you're not from here.