Where to Get the Best Mexican Food in Denver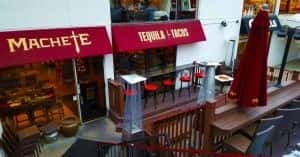 Denver might not be near the Mexican border, but there's no shortage of excellent Mexican restaurants within the city limits and beyond. You might already know some of the names on the following list, or you might not, but either way you'll find an excellent meal if you decide to stop by.
Marg's World Taco Bistro
Marg's Taco Bistro has three locations in Denver, including downtown, uptown, and Cherry Creek. The small chain has two main draws: world fusion tacos and an incredible number of margarita mixes with all kinds of tequilas to choose from. Taco fillings include an Italian mix with basil and asiago cheese, Korean pork with scallions, mahi-mahi, and even a Philly steak option with queso sauce. You can also choose from several non-alcoholic cocktails if you'd like to have a unique drink and still be able to drive home safely.
Tamayo
At the corner of 14th Street and Larimer, right across the street from the University of Colorado Denver, Tamayo is an upscale Mexican restaurant. Restaurateur and chef Richard Sandoval combines traditional meals with some of the best contemporary practices out there. On you menu you'll find five varieties of guacamole, and specials include chili and coffee carne asada, salmon adobado, and El Machete, which features a New York strip steak with mushrooms and truffle oil. Be ready to spend more than what your usual Mexican restaurant costs, though, and make sure you get a reservation.
Machete Tequila + Tacos
Machete has two locations, one across from Union Station in downtown Denver and one in Cherry Creek. Like Marg's, Machete specializes in its taco menu but offers much more traditional options such as steak with avocado salsa and onions. The meat choices include a few more options than what you'd see at your average Chipotle, including beef tongue, lamb shank, lobster tail, and eggplant. Machete also has plenty of margarita mixes to enjoy, including the Hot Mess, made with habanero and serrano peppers.
Moose Hill Cantina
Located in Lakewood on West Colfax Avenue, the Moose Hill Cantina is an unlikely named Mexican restaurant owned and operated by a single family. It offers the traditional mix of Mexican dishes with no small amount of influence by American cuisine. Most of the meal options cost less than $10, and their most popular dishes are the taco salad, tacos à la king, and huevos rancheros. You can even order from several breakfast burritos covered in green chile.
Remember, this list is far from being comprehensive. There are plenty more excellent Mexican restaurants where these came from, and you could visit a different place every day of the week and still find more places in the Denver area that are worth dining at. Whether you like your Mexican food traditional, contemporary, cheap, expensive, or somewhere in between, you're sure to find a place you can love in Denver.