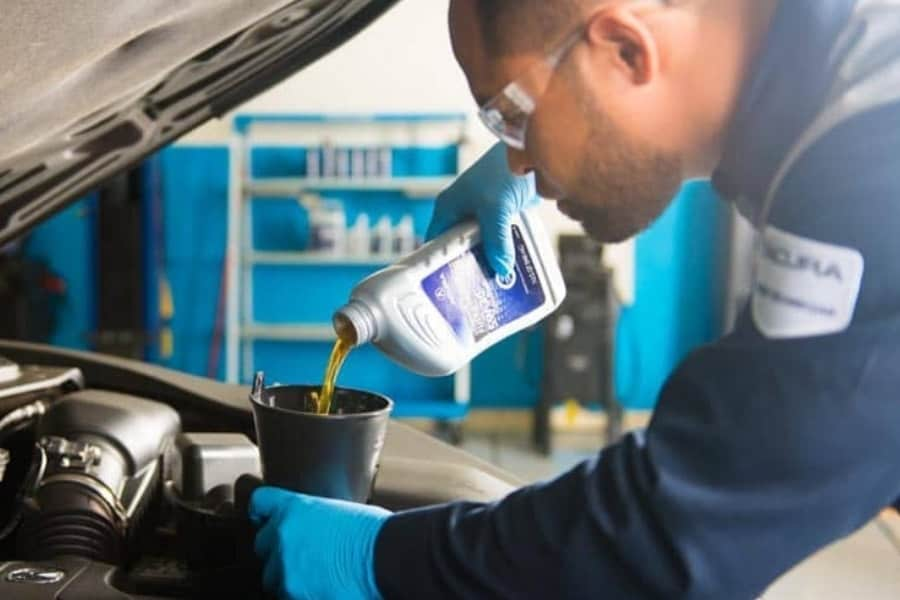 Conventional Engine Oil
All engine oils are there to keep the engine lubricated and running at the optimum temperature. The main difference between Conventional and Full-Synthetic engine oil is the degree of refinement. Conventional Oil is considered to be the baseline level of refinement with additives that help it last a few thousand miles before requiring change service. The result is that Conventional Oil is available for a lower price than Full-Synthetic alternatives. Conventional Oil works great for many vehicles, but some drivers prefer that added benefits of selecting a Full-Synthetic motor oil.
Full-Synthetic Engine Oil
Full Synthetic Oil marks the highest degree of refinement, resistance of thermal breakdown, and longest life of any oil option. As engine oil undergoes more refinement, the cost of the oil increases. The increased cost of Full-Synthetic Oil is negligible for many drivers because of the benefits that it provides in terms of peak engine lubrication for longer. Another preferred benefit of Full-Synthetic Oil is that it helps protect the engines in older-model cars with high mileage to have the longest life possible. The performance advantage experienced by Full-Synthetic Oil is because it resists thermal breakdown for longer than Conventional Oil. If you are uncertain about the engine oil that your Acura needs or if you want to consider switching from conventional to full-synthetic oil, give us a call and speak to one of our knowledgeable service advisors.
How do I know I need an Engine Oil & Filter Change Service?
Change engine oil soon reminder is on
Check engine light comes on
Exhaust smoke is darker than usual
Engine makes more noise such as a knocking sound
Oil is dark, black, or gritty to touch
Service Specials
What Oil Should I Use in My Acura?
Most Acura models, such as the TLX or ILX, do not make a recommendation for installing a specific engine oil as long as you use the correct weight grade. That means selecting an engine oil for your Acura car, crossover, or SUV will come down to your preference as the owner. The most important part of choosing an engine oil for your Acura model is making sure that you choose an oil with the correct weight grade. For example, the 2017 Acura ILX owner's manual recommends genuine Acura oil that is OW-20 grade with API certification. As long as you select an engine oil with the correct weight grade, your preference can guide you to choose a Conventional or Full-Synthetic motor oil with that weight.



Schedule Service
Complimentary Service Amenities:
​Knowledgeable Staff
Customer Lounge
Coffee/Tea/Hot Chocolate
Continental Breakfast
Snacks
Loaner Vehicles *not available for Express Services
WiFi
Bottle Water
Magazine & Newspapers
Kids Room/Movie & Toys
Shuttle Service
Early Bird Drop Off
After Hours Drop Off/Pick Up
Satellite TV
Vending Machines
Schedule Service