Reasons to Consider the 2017 Acura TLX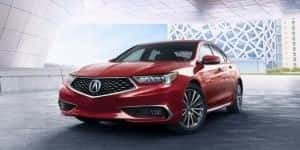 Are you in the market for a midsize luxury sedan that won't cost all that you have? If so, the 2017 Acura TLX might be just the right choice. Here are some of the best reasons you should consider the 2017 Acura TLX for your next car purchase.
Superior Handling
Acura's Precision All-Wheel Steer system, P-AWS for short, isn't like every other vehicle with front-wheel drive. This system makes it possible for the TLX to adjust the angle of each of the rear wheels independently, allowing for better braking and agility.
Alternatively, choose all-wheel drive with the Super Handling All-Wheel Drive (SH-AWD), which distributes power to the wheels that need it most. For example, if you're going around a corner, the power will go to the wheels that are on the outside of the curve. This system makes driving feel seamless.
A Luxurious Interior
The leather interior of the Acura TLX features Milano leather, making it one of the most luxurious interiors. Add to that the Active Noise Control technology, which has microphones in the cabin that detect noise and cancels it out with a special amplifier and by using feedback from the car's speakers. This removes unwanted sounds, making for a quiet cabin. What's more luxurious than silence, or being about to hear your favorite music without interference?
Precision Lighting
LED lights are used to their fullest potential in the TLX. The Jewel Eye LED Headlights use 10 separate LED lamps to mimic natural sunlight, allowing you to see colors more vividly while reducing fatigue. Three of the lamps on each side engage on low beams while all five on each side brighten when high beams are turned on.
Passive and Active Driver Assist Systems
Luxury doesn't just mean comfort. It means keeping you safe, too. With the 2017 Acura TLX, that includes the Lane Keeping Assist System. This system uses a camera in the rearview mirror, keeping the TLX centered in the detected lane if you haven't put on your blinker indicating that you want to change lanes. If the driver lets the car drift, the car will gently steer back towards the center of the lane.
Adaptive Cruise Control is made for city traffic. Set the desired speed and following distance, and you can use this advanced cruise control in light traffic without having to adjust it constantly.
Blind Spot Information System lets you know if there's an object in your blind spot. If there's something there, an indicator appears on the windshield and the Multi-Information Display screen. If you then turn on your blinker in that direction, there's a flash and a warning beep. This system is only active at 20 mph or higher, so you don't have to worry about it in stop-and-go traffic or at traffic lights.
These are just some of the reasons you should consider a 2017 Acura TLX. But when it comes to purchasing a new car, what really makes a difference is how the car feels. Come test drive a TLX with us today, so you can experience it for yourself.