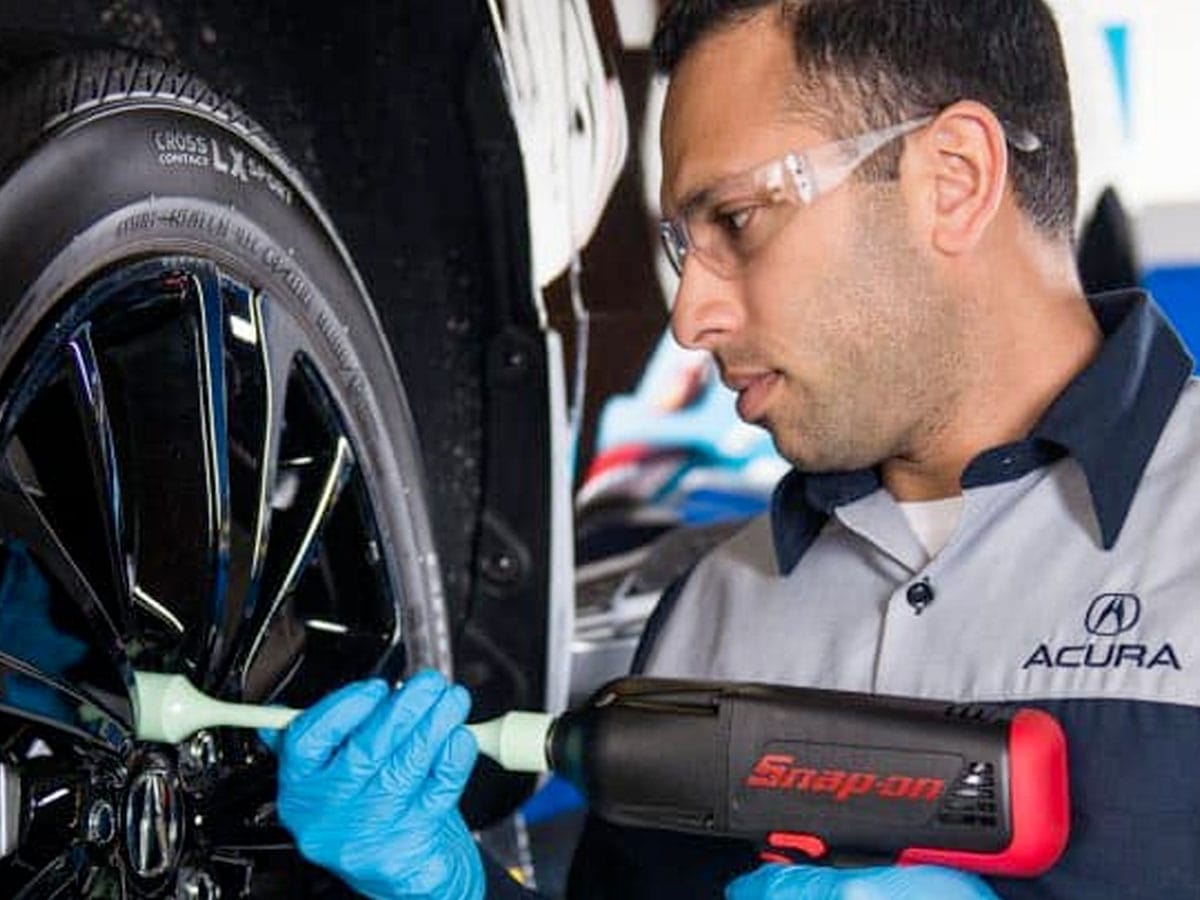 Acura Tire Rotation Service in Denver, CO
Acura manufactures cars and SUVs known for sporty handling and smooth riding. Getting the best driving experience for your Acura requires routine tire rotations every 10,000 miles. Routine tire rotations promote even tire wear, extended tire life, better safety while driving, and reduce long-term tire replacement cost. Stop by the accelerated service department during regular hours for your tire rotation or schedule your service today at Mile High Acura.
Specials
Schedule

Why Get Routine Tire Rotations?
Understanding why tire rotation service is recommended every 10,000 miles starts with understanding that each wheel/tire position handles different road forces. The front tires handle additional weight from the engine's position on the front axle, plus additional steering forces. The additional weight and steering pressure lead to rapid front tire wear. Routine tire rotations promote even tire wear and extended tire life by ensuring all tires handle similar road forces over the long run.
What Happens Without Tire Rotations?
Putting off or neglecting tire rotations will lead to rapid wear that eventually causes an unsafe driving condition. Such consequences can be eliminated with routine tire inspections, diligent tire rotations every 10,000 miles, and knowing the warning signs that your vehicle needs to rotate the tires. Here is what happens without tire rotations, which are also the warning signs that tire rotation is needed:
Rapid tire wear on one or more tires
Different wear patterns across the set of tires
Vehicle vibration that usually worsens with acceleration
Tires losing pressure (blowout while driving)
Genuine Acura Tire Rotation Service Overview
Genuine Acure tire rotation service starts in our state-of-the-art facility staffed by our factory-trained and certified technicians. We remove the wheel-tire assemblies and perform a tire inspection, including a check for irregular wear, inflation adjustment, and tread depth measurement. The wheels are repositioned according to the authorized tire rotation diagram.
Get Tire Rotation Service at Mile High Acura
Getting your much-needed tire rotation service is convenient at the Acura accelerated service department. We also perform tire rotations by appointment if you prefer. Busy Acura drivers often choose the accelerated service department, where they show up for tire rotations without appointments when it fits their schedules. Online service scheduling is another way that many customers choose to book tire rotation appointments at our service department within minutes when convenient for them without using the phone. We also schedule tire rotation appointments by phone.
 Schedule Service
Hours
Monday

8:00AM - 8:00PM

Tuesday

8:00AM - 8:00PM

Wednesday

8:00AM - 8:00PM

Thursday

8:00AM - 8:00PM

Friday

8:00AM - 8:00PM

Saturday

8:00AM - 8:00PM

Sunday

Closed
Complimentary Dealership Amenities
Knowledgeable Staff
Customer Lounge
Coffee/Tea/Hot Chocolate
Continental Breakfast
Snacks
Loaner Vehicles *not available for Express Services
WiFi
Bottle Water
Magazine & Newspapers
Kids Room/Movie & Toys
Shuttle Service
Early Bird Drop Off
After Hours Drop Off/Pick Up
Satellite TV
Vending Machines
 Get Directions
Dealer Wallet Service Marketing & Fixed Ops SEO by