Taking Technology in a New Direction: The Acura Precision Cockpit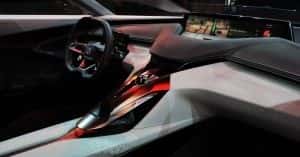 As automakers compete for attention, many strive to integrate technology into their vehicles' interior. In some cases, the dashboard becomes clunky and busy, making it difficult for drivers to perform certain tasks. Acura tackles this challenge head on with the Acura Precision Cockpit. Thanks to its marriage of function, design, and technology, this cutting-edge concept is already gaining praise throughout the industry.
Offering a Simple Design
Don't mistake simple for plain or unattractive. Because of its pared-down styling, the Acura Precision Cockpit is sleek, clean, and modern. Even so, it incorporates natural wood, suede, brushed metal, and leather for an upscale appearance. Thanks to ambient LED lighting in a copper hue, the cabin has an inviting, warm feel.
In the instrument panel, there's a 12.3-inch color display. To increase the driver's ability to see information, there's a matching screen that's set in a higher position. The screens' images and color scheme change to match the drive mode.
Introducing Enhanced Connectivity
Leveraging a technology known as absolute positioning, the Acura Precision Cockpit enables drivers to use a touchpad to interact with the vehicle's interface with unprecedented accuracy and efficiency. Though some luxury vehicles already on the market use a touchpad system to allow drivers to access features they see on a screen, the interfaces are often slow, clunky, and inaccurate in interpreting touchpad motions.
Using absolute positioning, Acura engineers mapped the entire touchpad surface to correspond with the display. The resulting experience allows drivers to quickly and intuitively perform tasks through the touchpad. An added wrist rest is a nice touch that makes using the touchpad comfortable.
Enabling a Move Toward Automated Driving
The Acura Precision Cockpit moves the industry one step closer to making automated driving a reality. Using 3-D technology, the vehicle can provide the driver with a realistic display of the immediate vicinity. As a result, the driver sees other vehicles, pedestrians, and other objects within range of the vehicle's detection sensors. The car uses a form of artificial intelligence to predict what lies ahead. With these safety-related features, the car's technology inspires driver trust in these quasi-automated systems.
In addition, the Acura Precision Cockpit is able to connect and communicate with vehicles engaged in autonomous driving. This functionality lays the groundwork for Acura's automobiles to have vehicle-to-vehicle communication with other autonomous-operating cars for added safety.
Expanding Electrification Options
At the same time Acura unveiled its Acura Precision Cockpit in Los Angeles, the Japanese automaker also showed off its continuing work in electrification. After winning in its class at Pikes Peak International Hill Climb earlier this year, the 2017 NSX with its electrified powertrain was on display in LA. The goal is to demonstrate that vehicles that run on electricity can achieve impressive performance. The NSX established itself as a fast car after it completed the 12.4-mile race course at Pikes Peak in 10 minutes and 28 seconds. Acura's third electrified vehicle, the MDX Sport Hybrid, is set to debut in spring 2017.
Whether it's a highly-connected interior that's poised for autonomous driving or advances in electrification, Acura is innovating at an impressive pace.