Top 5 Features You'll Love About the 2018 Acura RDX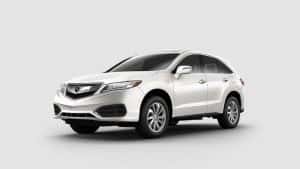 The Acura MDX's little brother, the RDX, got a new look and added features for 2018. The RDX is Acura's luxury compact crossover SUV. U.S. News & World Report gives the 2018 RDX an overall 5-Star Safety Rating.
Want to learn more about this luxury crossover? Check out these five things to love about the 2018 Acura RDX
Unique 3-Dimensional Grille
When you head out to the mall parking lot, many cookie-cutter SUVs look alike. The Acura RDX stands out with its updated styling. Engineers designed the bold front grille with a 3-dimensional architectural feel.
Jewel Eye® headlights look beautiful and are also brighter and whiter than traditional headlights. They last longer too. You don't simply walk past this SUV, you stop and appreciate its good looks.
AcuraWatch Plus Suite
Driving distractions are part of our world. Acura works to help stop collisions with its AcuraWatch Plus Suite. This technology package upgrade includes the Collision Mitigation Braking System™. Basically, your car can alert you if any obstacles are in your path. If you don't take action, the car can brake for you.
The Suite also provides Adaptive Cruise Control. You set your speed, and the car will keep fixed amount of space between you and the car ahead of you. Your RDX also uses forward facing cameras to help keep the car centered in its lane. If you start to drift, the Lane Keeping Assist System will slowly move the car back into the center of the lane.
Sporty Performance and Handling
The RDX is no clunky, hard to control SUV. This luxury compact handles like a dream. Whether you choose front wheel or all-wheel drive, the RDX offers a smooth, stable ride. The assertive 3.5-liter engine generates 279 horsepower to command the road.
Variable Cylinder Management™ allows the RDX to run on either six or three cylinders to increase fuel efficiency on the highway. If you prefer, take some manual control of the 6-speed automatic transmission with SportShift paddle shifters.
Rear Seat Comfort
Usually, only little ones in car seats can ride comfortably in the rear seats of a compact SUV. If you want to fit three adults in the back, they'd have to get pretty cozy. Nobody wants to sit in the middle and straddle the hump in the floor. The RDX changes all that.
There's plenty of room for three adults in the back seat. With thoughtful engineering, Acura provides a flat floor with no hump. Passengers are free to stretch out with ample leg room. Instead of a hump, passengers get adjustable climate control vents. While you may never sit in the back of your RDX, your friends and family will thank you!
Professionally Tuned Audio System
When your audio system is tuned by Grammy-Award winning producer Elliot Scheiner, you know your ears are in for a treat. You'll hear every note with the ELS Premium Audio System's extended frequency range, better clarity, and less distortion.
Those are the top things to love about the 2018 Acura RDX. If you're torn, perhaps, between the Acura RDX or the Acura MDX, refer to our helpful comparison guide. Once you're ready to experience the top features you'll love in the Acura RDX, stop in and choose your Acura luxury crossover – whether used or new – today.