Top 6 Denver Festivals to Check Out This August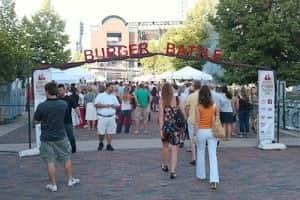 If you've already checked out some other festivals in Denver, you may be ready for more to come in August. Gather your friends and family and spend a day outside to enjoy the weather. Here are six of our top Denver August festival picks!
August 3: Denver Burger Battle
Burger lovers must visit Tivoli Quad Park on August 3. Chefs from 16 local restaurants compete in this cook-off for the two top burger awards, People's Choice and Judges Choice. Founded by Jeremy and Kelly Kossler in 2010, the Burger Battle supports local charities.
The battle begins at 6:30 p.m. rain or shine. Pair your burger with beer or wine. Only those 21 and older can attend this adult-only event.
August 5: Denver International Festival
Admission is free to this event celebrating music, food, and art from countries around the world. Civic Center Park will be bustling with health and wellness activities like Yoga, Tai Chi, and volleyball. Stroll around and visit the food, retail, and arts and crafts vendors.
The event runs from 10:00 a.m. to 8:00 p.m. Don't miss the benefit concert filled with international reggae, Latin, and salsa artists.
August 5 and 6: Blissfest International Film Festival
Movie lovers can enjoy two days of film, multimedia, and cultural arts at Blissfest International Film Festival. Festivities kick off on August 5 at 6:00 p.m. at the historic Elitch Theater. Experience the opening and meet and greet session with artists and filmmakers. The next day, head to the Alamo Drafthouse Cinema at noon for the film festival that runs until 5:00 p.m.
August 11, 12 and 13: Velorama Colorado
Denver is one of three Colorado cities hosting this weekend-long music and bicycling event. Concerts and races happen across twelve blocks of the RiNo Art District. Three days of music are headlined by Wilco and Death Cab for Cutie. Participants can also stroll through the flea market bike and lifestyle expo. Plan to spend at least one full day!
August 12: 9th Annual Cherry Creek North Food and Wine
Foodies and wine enthusiasts can savor samples from over 20 local restaurants at this outdoor festival. Participants will also enjoy music at the event hosted at Fillmore Plaza from 6:00 p.m. to 9:00 p.m. General admission and VIP tickets are available. HALCYON, a hotel in Cherry Creek, is offering a discount for August 11 and 12 bookings.
August 12: Blues and Brews on South Pearl
If you prefer bluesy music and beer, head to Blues and Brews on South Pearl. One admission gets you access to all the music events headlined by The Iguanas. You'll also enjoy other bands like The Taylor Scott Band and Dragondeer while you taste local beer.
For more craft beer tasting, add a VIP Beer Tasting ticket. Test local hand-crafted beers from noon to 1:00 p.m. at BrewGrass. Brewers will be on hand to chat and answer questions.
There's a festival for everyone in Denver this August. Come out and celebrate with music, food, and film. Enjoy the warm, lazy days with friends and family at these summer events. Did we miss your favorite? Please add it in the comments section below.